19-12-2017
Pointers for the perfect destination wedding
by
Aysha Shaba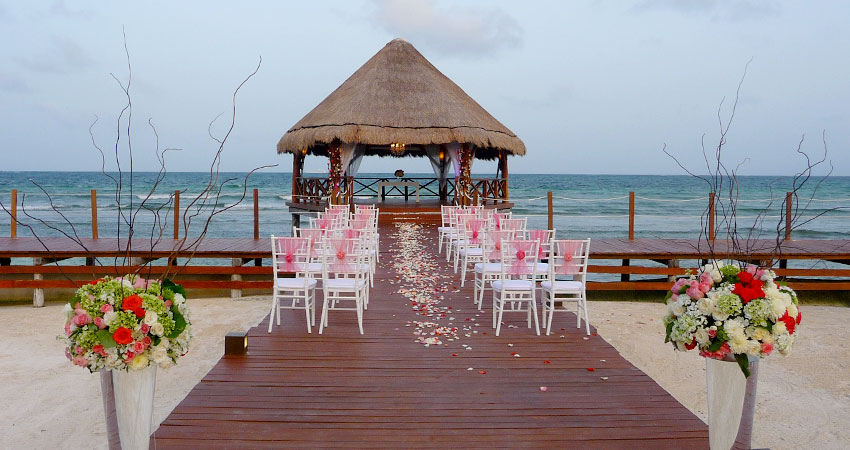 Any young girl has dreamed of tying the knot with the one she loves with a backdrop of a beautiful sunset by the shore or amongst grand statues and walls in a palace somewhere. While earlier this was just a fantasy, now with cheaper air fare and more connectivity, it is very much practical. As beautiful and dreamy as your concept is your, it could quickly turn into a nightmare if not well prepared. Let us take a look at some things to keep in mind for a perfect destination wedding.
Mood
Choose a destination that suites your personality, the vibe you wanna give to your guest and the theme you want for the wedding. Some of the 'in' choices of the season are royal palace weddings, adventurous safari weddings, serene farm house and beach weddings or five star hotel weddings in some exotic locations. Discuss with your partner and decide on the mood you want to set and then chose the location accordingly.
Season
Do extensive research on the weather of your chosen location at the time of the wedding. Chose a location that does not have too many unexpected weather changes like sudden rains or thunderstorm. Keep in mind the place must be easily accessible to your guests in all weathers. The weather alone can enhance or completely destroy the wedding experience. Believe me, you don't want a beach side wedding on a rainy day!
Dress right
Shop your attire based on your location. Chose something that's comfortable to wear in the climate and terrain of your location. You don't want to be wearing pin pointed heels for a beach wedding and trip walking down the aisle. Similarly, beautiful gown with a long train might not be such a good idea for a farm house or safari wedding, where it drags along in the dirt. So chose your attire wisely. Also set dress themes for your near and dear ones keeping in mind their comfort. A 3 layered suit is simply cruel in a tropical beachside.
Guest List
Destination weddings are definitely expensive, hence it will have a direct impact on the number of people you can invite. It will also reduce the number of RSVPs because of the additional expense and time the guests have to put in to be a part of your wedding. Keep in mind, your dream destination might not be their ideal holiday, so try to choose a location maximum guests on your list would like to go to investing time and money. Say if you have a more aged group of guests, you might want to choose an easily accessible location rather than a beach wedding that might require long walking.
Get help and vet vendors
You are organising the biggest event of your life in an unknown place, where you have no contacts. So get the right help, don't try to micro manage all by yourself from faraway. Make sure to find reliable event planners and vendors. Vet them properly by reviewing their previous works. Make sure all the wedding preparations and tasks are done perfectly and nothing is left out to last minute or chance. Read up on the legalities of getting married in that location, take care of paper works if any. You don't want any last minute shocks do you!
Take care of your guests
They are at the destination to be a part of your wedding, so it is your responsibility to make their trip as joyous and smooth as it can be. That doesn't end by just getting them group rates on flight tickets and rooms. Instead look into the details, about things like their travel arrangement, special needs for the aged or families with babies etc. Also keep your guests informed about the location and the weather, what to wear to be comfortable, what to carry along and more. Go the extra mile and even research on things to do in your destination and share it with your guests to make the most of their trip.